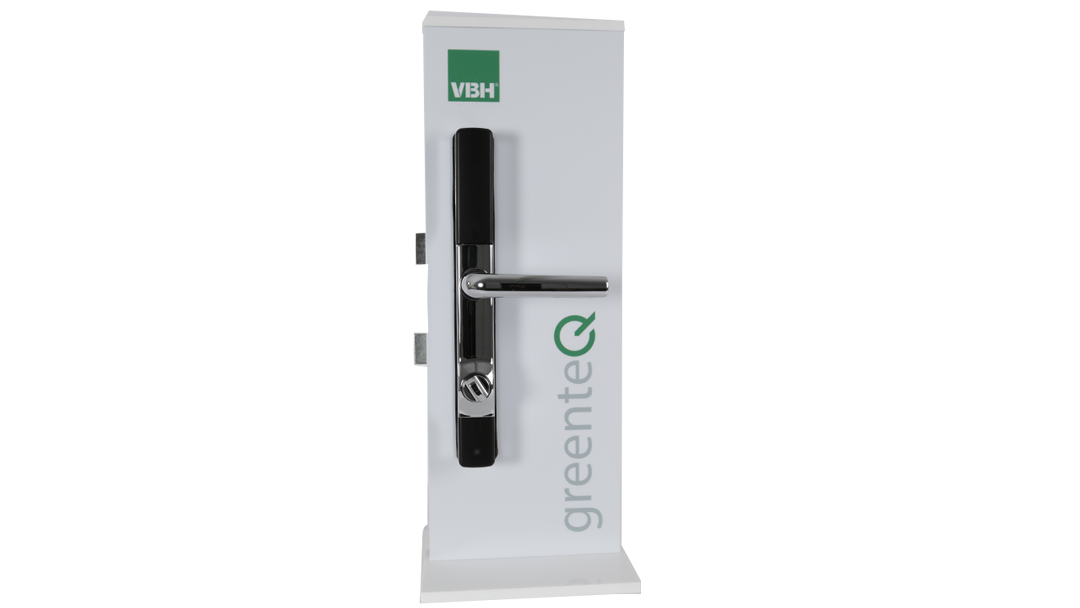 greenteQ Q-Smart Electronic Door Handle
greenteQ's Q-Smart electronic door handle is a simple upgrade to a residential door. It allows the user to throw away their keys and use their fingerprint, phone app or proximity reader to unlock their door for maximum convenience. Even the internal unit is not much larger than a standard manual handle set so it does not impose itself on the interior decoration. Cyber security is assured as Q-Smart has been tested to the relevant ETSI standards at BSI.
Key Features
Explore Q-Smart
Use the slider to rotate the image through 360 degrees to see Q-Smart from all angles. Click on the info points for interesting information. You can view our Product Bulletin which gives more detailed information, or sit back and enjoy our product video.
Keyless Living
Allowing for keyless living, this smart handle allows you to enter your home with a fingerprint, phone app or proximity reader. Security is assured as Q-Smart has been tested and certified to ETSI TS103 645 (CYBER: Cyber Security for Consumer Internet of Things)
Blusafe App
With the Blusafe app, you can send mobile keys to family and friends easily and efficiently. You'll be able to monitor the usage of your door as the app keeps a log of who comes in, and at what time.
Child Safety and 'Fishing' Protection
The Push to Turn thumb turn on the inside prevents attempts at 'fishing' through a nearby letterbox and also prevents unauthorised opening of the door by minors from inside.
Battery Operated
Battery operated, no mains connection is required, meaning your door stays secure even if there's a power outage.
Compact Size
A compact unit at around 60% the size of comparable products, Q-Smart is a subtle and non intrusive unit.
Choice of Finish
Homeowners have a choice between attractive black and polished chrome finishes to complement their property's decorative style.